AKC Mission Statement
The American Kennel Club is dedicated to upholding the integrity of its Registry, promoting the sport of purebred dogs and breeding for type and function. Founded in 1884, the AKC® and its affiliated organizations advocate for the purebred dog as a family companion, advance canine health and well-being, work to protect the rights of all dog owners and promote responsible dog ownership.
To further and promote the sport of pure bred dogs, AKC has provided a system of events for the fancy to participate in and achieve specific goals.  To reward those who participate in these activities and obtain set goals with their dogs, it awards titles which becomes part of the dogs registered name for life.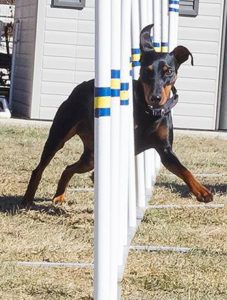 As an AKC Sanctioned breed club the German Pinscher  Club of America strives to continue the AKC efforts to promote the sport of pure bred dogs,  by showcasing  German Pinschers who have obtained AKC titles and Certificates through AKC events. 
In addition, the  GPCA Special Awards program celebrates each year those within the breed who obtain special distinctions.
Please use the drop down menu to view those within the breed who have attained AKC recognition and GPCA recognition.