join now
The GPCA is the official AKC national breed club for the German Pinscher. We invite you to join today.
Learn More
The German Pinscher is a versatile dog that can excel in any venue.
Our versatile German Pinschers are successful in conformation, obedience, rally, agility, barn hunt, Fast CAT and CAT (lure coursing), scentwork, nosework, tracking, dock diving, weight pull, herding, farm dog, and trick dog competitions. They are Canine Good Citizens, AKC STAR certificate earners, Therapy Dogs, Search and Rescue Dogs, Service Dogs, and companions.
The GPCA is a member of the American Kennel Club, and as such, is the only national German Pinscher breed club which is recognized and sanctioned by the AKC.
The GPCA became the AKC National Parent Club in 2002.
The objectives of the German Pinscher Club of America are to encourage and promote quality in the breeding of the purebred German Pinschers and to do all possible to bring their natural qualities to perfection; to encourage the organization of independent local German Pinscher Specialty Clubs; to urge members and breeders to accept the standard of the breed as approved by the American Kennel Club as the only standard of excellence by which the German Pinscher shall be judged; to do all in its power to protect and advance the interests of the breed and to encourage sportsmanslike competition at dog shows and all AKC events; and to conduct sanctioned matches, specialty shows, obedience trials, and tracking tests under the rules of the AKC.
Join us for our yearly show, when we celebrate all aspects of the German Pinscher with competition events, educational seminars, and more.
Courageous and Intelligent
German Pinschers have highly developed senses, intelligence, aptitude for training, fearlessness and
endurance.
Affectionately referred to as the GP, the German
Pinscher is a medium-sized, short-coated dog, elegant
in appearance with a strong square build and moderate
body structure. It is muscular and powerful for endurance
and agility. Determined, intelligent and loyal, the GP has the prerequisites to be an excellent watchdog and companion.
Each breeder on our Breeder List is a member of the GPCA and has signed the GPCA code of ethics.
German Pinschers have proven themselves worthy in the
conformation ring, as well as in agility, obedience, rally,
tracking, scentwork, and more.
Race against the clock and through an obstacle course in this fast-paced and rewarding sport.
This sport celebrates the joy of sniffing, turning your dog's favorite activity into a rewarding game.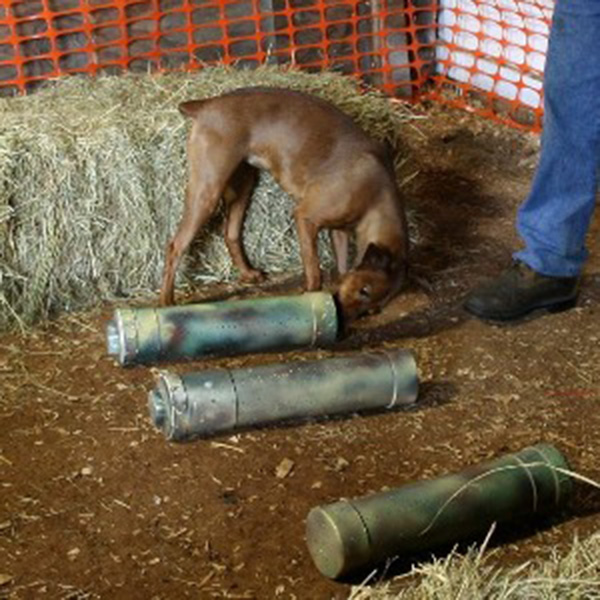 Locate and mark rats (safely hidden in tubes) in this event that mimicks the German Pinscher's historic role as a rat catcher.